March 2016 News
WHAT IS SO AMAZING ABOUT RENAISSANCE MEDICINE?
The Renaissance period (1300-1700 ad) bridged the old magical/energetic medical paradigms with the new "scientific" medicine soon to dominate western medical practice. However, for a few centuries, the war was not yet won. For a brief blip of history, both systems crisscrossed one another, existing simultaneously.
The licensed Renaissance physician fully utilized at least some of the old paradigms while gradually incorporating the new discoveries. For a time, the ancient root workers, bone setters and wise women abounded alongside the sumptuously attired,  Latin spouting, licensed physicians.  This was a remarkable era, and one wonders what western medicine would be today if this diversity of approaches had remained intact. Alas, it was not to be.
Gradually, the licensed physicians formed leagues, schools and councils to increase their status and prevent specifically women from medical education and practice. Similarly, strong attempts were made to suppress and persecute all practitioners of the ancient medicine.  The year 1509 saw the first attempt to restrict the right to heal to institutionally approved male physicians. Virulent attacks on astrology began, despite the fact that Astrology, especially for medical purposes, remained essential to university medical curriculum until ousted in 1666. Until that year, no physician was licensed without having passed his astrological exams!
By 1542, King Henry found it necessary to protect the folk healers of his realm from being shut down by issuing his famed Herbalist's Charter.
However, an examination of the diary of physician Joseph Blagrave (written in 1671) finds him happily recognizing the "old' etiologies while scientifically cataloguing his cases, methods and follow-up. He openly recognized and treated spirit possession, bewitchment and astrological causation as viable etiologies. Typical of his fellows, he was an expert herbalist and genius astrologer. So were the renowned healers  Nostradamus, Paracelcus and Culpepper! This begs the question: If illness can sometimes be traced to supernatural and planetary causes, why is this being ignored?
The combination of herbal medicine, physical examination and medical astrology formed a trifecta of medical techniques that reached its climax in the life and work of Blagrave. His remarkable diary is a testament to the cures and capabilities of the man and the complex and remarkable system of Renaissance Medicine. He was a master herbalist, astrologer, empirical observer and spiritual man all comfortably combined in one medical practice.  His methods and cures were astonishing. It appears he might have been able to cure some maladies considered incurable today.
Today, we find ourselves at a similar cross roads as was Europe at the end of the 17th century, only in reverse!
Western medicine has advanced to the point where we can provide new organs or grow fabricated skin! Yet millions are turning to Chinese Medicine and Ayurveda, seeking something "missing." The indigenous Western tradition has been so vigorously and deliberately besmirched since 1700, that few of us today know anything about it other than "leeches and bleeding."
Factually, Renaissance Medicine holds considerable similarity to Chinese Medicine and shares close roots with Ayurvedic Medicine, both who draw deeply from the ancient Greek Galenic tradition. Its time to dust off the old books and take a fresh look. Maybe these Renaissance doctors knew some things we might well benefit from.
The collective western mind appears to be yearning for the suppressed half of western medicine.
I envision a future where hospitals host  Cosmobiology Departments staffed by trained cosmos-biologists (Medical astrologers) who select safe surgery dates for patients in need, and opine on vibrational energetics, hidden causes, remedial treatment and timing of disease.
The Lost Secrets of Renaissance Medicine Conference, April 30th-May 1st, endeavors to share exactly that, (lost secrets), for our historic interest and benefit (See Conference Disclaimer on Website). For those that cannot make the conference, we have two rare and fascinating post conference workshops on May 3& 4.
EARLY BIRD TICKETS STILL AVAILABLE! Tickets going fast. Get your tickets today!

Share the news with your friends through our Facebook Events page.
MARCH IS AN ECLIPSE MONTH
Two eclipses occur:
March 8th (Pacific Time), Solar Eclipse 18.58 of Pisces

March 23rd

 (Pacific Time), Lunar Eclipse at 3.17 degrees of Libra (reflex to Aries)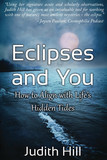 RECOMMENDED ECLIPSE BOOK: Eclipses and You is available from Amazon, Barnes & Noble, and also our own New Renaissance Books in Portland, Oregon!
Judith gives condensed interpretations for this month's Pisces and Libra eclipses for all ascendant signs, plus an enormous amount of traditional and personally observed eclipse rules and lore. This book also contains the only extant log of eclipses by nodal polarity found anywhere (as far as we know).
In fact, the detailed differentiation of interpretation by nodal polarity of eclipse type appears unique to this book in the history of astrological literature.  Also included eclipses by nodal type over each natal planet and much more! Beginning to advanced sections included. This book provides an indispensable textbook for any student of astrology!
PORTLAND MARCH LECTURE
I will be giving a talk this month - Sunday, March 20th, 3PM prompt at the Portland Theosophical Society on NW Kearny Street. Join me for "Medical Astrology, Herbs and the Medical Systems of Old Europe."  This is a fascinating lecture is presented in honor of the upcoming Renaissance Medicine Conference on April 30th-May 1st and the post conference Matthew Wood/Judith Hill collaborative workshops on May 3& 4th.